Choosing to file bankruptcy is a major decision and will impact your life for a very long time.
Bankruptcy Attorney
Listen to this Article on:
Answers to Filing Bankruptcy and achieving financial security.
If you have come to this page, then you are seeking answers to some difficult financial questions. Choosing to file bankruptcy is a major decision and will impact your life for a very long time. This section is dedicated to providing the resources you need to be able to make an informed and intelligent decision.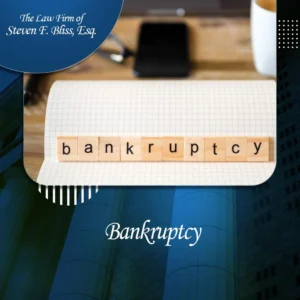 No Gimmicks, Hidden Fees or Bait and Switch Tactics:
If you are tired of attorneys playing games on you, then come and meet with me and get the straight facts about what your matter will cost. Lots of attorneys will tell you one thing on the telephone and another when you come into the office or hit you with hidden fees or costs that you never knew about before you walked in the door to their office. I have an excellent reputation in the community as evidenced by my A+ rating with the Better Business Bureau and pride myself in being a straight shooter so you can be confident in what I tell you.
Please Help Us Spread The Word By Giving Us a 5 Star Rating on This Article
Free Initial Consultation with
Steven F. Bliss Esq.

★ ★ ★ ★ ★

What are the warning signals that you may be a candidate for bankruptcy?
Inability to make minimum monthly payments
You have taken payday loans to meet basic budget obligations (food, gas etc) or bills.
You are about to be sued or have already been sued by a collections attorney
You find yourself juggling bills each month (paying some but not all)
You have no emergency fund or savings
You have been threatened with foreclosure or repossession
All of your credit lines are at or near their maximum limit
You have not taken a vacation in a long time
You have relationship problems due to financial stress
Chapter 7 or 13…Which Chapter is Right For You??
Chapter 7 is best for you if:
Your debts are mostly unsecured:

Credit cards
Medical Bills
Short term or "payday loans"
Department store credit cards
Unpaid utility bills
Civil lawsuit judgments, bank levies and wage garnishments

You own very few assets or a house with little or no equity
You do not make enough money to pay both your basic expenses and your debt payments
You are current on your car and house payments
You do not owe the IRS or Franchise Tax Board a lot of money
You want to get in and out of Bankruptcy Court quickly
You qualify for Chapter 7 because you are below median income or pass the "means" test
Chapter 13 is best for you if:
You have too much equity in your home or "non exempt assets"
You are trying to stop a foreclosure on your home and want to catch up
You want to keep your car but are behind on your monthly payments, or 'mod' the loan
You have a second mortgage or line of credit on your home that you would like to remove
You owe the IRS or Franchise Tax Board a lot of money
You are seriously delinquent in back due child or spousal support payments
You filed a chapter 7 case within the last eight years and received a discharge
REMEMBER THIS:
Bankruptcy is your right to a fresh start!
Don't spend one more day struggling under a mountain of growing debt.